Booking Form
Location
Descriptions
Prices
News
Links
New features!
Site Map
Ghosts of the Isle of Wight

Every place with a bit of history has them ... the cross roads, the old oak tree, the pub where someone went missing, the old manor house that stood next to the pub and then disappeared one foggy night ... but here is a quick round up of Ghosts of the Isle of Wight, that apparently, is one of the most haunted counties in the UK!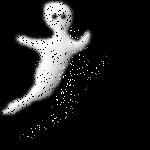 If you would like to find out more, there are countless books written about the Island and it's eerie past and an internet search throws up many results, but, if you're brave enough, try the regular Ghost Walk's in Newport, Carisbrooke Castle, Appuldurcombe House, Dimbola Lodge, Osborne House, Ventnor Botanic Gardens or visit one of the many other places around the Island with a history of heads chopped off, scorned lovers intent on revenge from beyond the grave, murder and mayhem! Having gone to Appuldurcombe House in the Summer of 2004, I can honestly say that it was brilliant fun and great value for money - but please also be aware that some displays are mainly aimed at an 'older' audience and young children can be frightened for several nights after!!! As a family, we have also been on the walks around St Catherine's Lighthouse, which are very entertaining and I would recommend them for a bit of a laugh and to get some facts on the Island.
Although we cannot claim that Freshwater Fruit Farm is haunted, we are actually quite relieved! If you would like to find out more about the haunted Isle of Wight, please click here!

---

Freshwater Fruit Farm Holidays, Wilmingham Lane, Freshwater, Isle of Wight, PO40 9UG, ENGLAND.
t: 01983 753413 f: 01983 753413 e: FFFIOW@aol.com